The 2013 races are wrapped up and I'm back home ready to enjoy a bit of the holidays and some cabin time out in Kananaskis Country. After a cold weekend in Sovereign, it was nice to warm up a bit in Rossland with these final races before the holiday break. While the skate sprint could have admittedly gone better on Saturday (especially after hitting some sprinting PB's in previous years) I was a bit more excited about Sunday's 15km classic race on the new course the local folk dubbed "The Bone Breaker".
...
...
Ok I made that last part up. But there's no doubt that this new section of trail for the 5km race course could end up getting some sort of ominous nickname among the skiers much like the aptly named "Wall" on the world cup trails here in Canmore. This new section in Rossland is like that M.C. Escher drawing of the never ending staircase. It start's off climbing, climbing, climbing. And when you think you're almost at the top, it climbs a little more. It finally levels off just before a brief downhill scoop, and then begins the second part of climbing. There's a reason the local folk call it, the "Soul Destroyer". No? I'll show myself out...
Starting off the 15km - credit Peachell Photography
The 15km was a good race for me. While I felt a bit groggy the morning off, come race time I was able to hold a good pace from the start, taking the early lead and holding onto it by the finish. While I thought I started off on a pretty conservative pace, the last time up what the local folk name "The Tormenter of Wills"... ok seriously I'm done for real this time...
A good way to cap off 2013! Credit Peachell Photography
The next set of races are here at home in early January and are the big focus of the season: Olympic trials. Lot's of nervous excitement for that weekend, but until then I'll be enjoying some long skis, time with the family and lots of holiday music.
Merry Christmas, happy holidays and I'll cya out on the trails!
Kev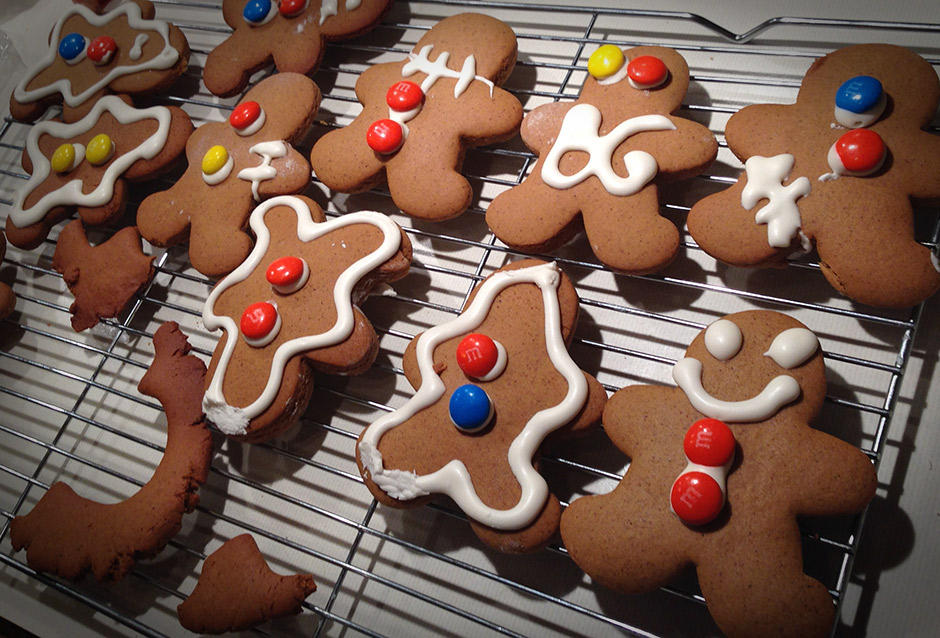 Getting in the holiday spirit with some gingerbread baking. Some turned out OK, other's needed surgery for lost limbs and heads.
P.S. Brent McMurtry has announced his return to Calgary/Canmore and has reiterated the challenging of me to a pizza bake off, including fancy shmancy judges, criteria's and rules. I really wish this would be documented like an episode of "Chopped" but alas, photos of the night and my sweet victory will have to do. Oh and hey Brent, my secret weapon arrived in the mail today.