It was back to BC for our yearly "four-day stint in a small town with a long ride" camp, this time in Kaslo, just an arms length away from New Denver. Of the places I've been to (which is a considerably short list), Kaslo probably has the most ice cream shops per capita, counting four shops within a block of each other. But that's not the reason for staying there.
On the plan: the one day, 216 km ride dubbed the Silver Triangle within the Selkirk Mountain range, some double poling, and some running squeezed into the four days for good measure. All this mirroring closely with last years four day camp.
Last years ride saw only two of us finish the full 216, and this time around there was quite a bit more determination from a lot of the team to start in Kaslo and end in Kaslo on their bikes.
I will now stop talking and just move onto photo's with captions (sort of like the crust of a pie (which is like the best part of pie (unless you don't like fruit in dessert which is totally understandable))).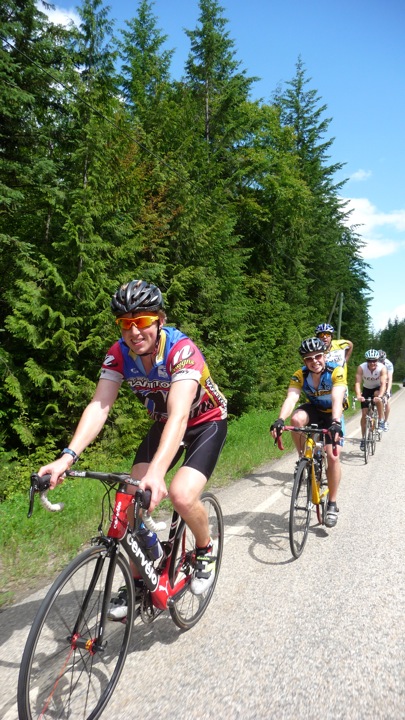 Happy crew at 80km in. Sunny weather made for a good day of riding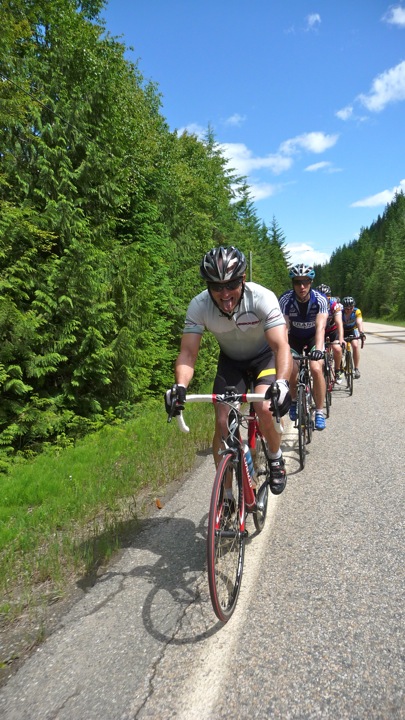 This guy. Coach Mike had been dreaming of this day since he had to cut last years ride short. Constantly seen pushing the pace at the front for a good chunk of the ride, Mike is in good shape for the start of the tour on Saturday.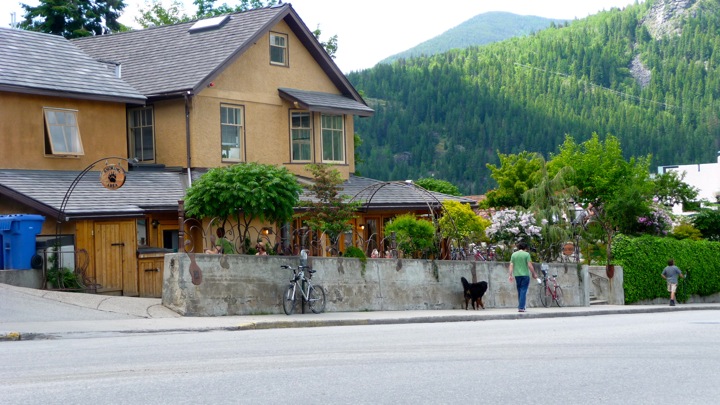 Coffee break in Nelson, 150km into the ride.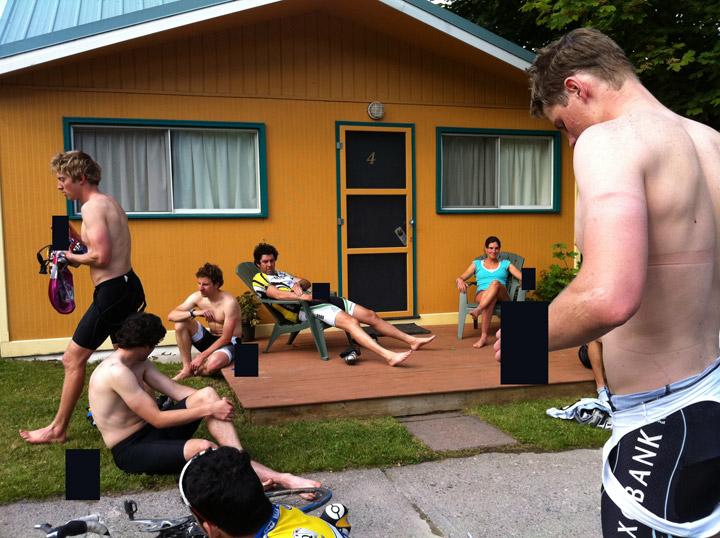 Post-ride debrief at the Kaslo Motel with a bunch of the guys just finishing their ride.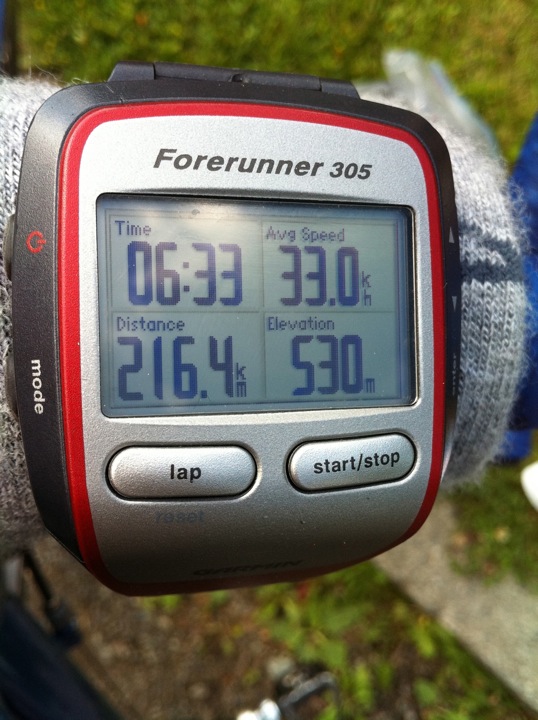 Clocked in 32 minutes faster than last year partly due to some fresh legs (too fresh) joining us with 80km to go, and quite a few hammer spots.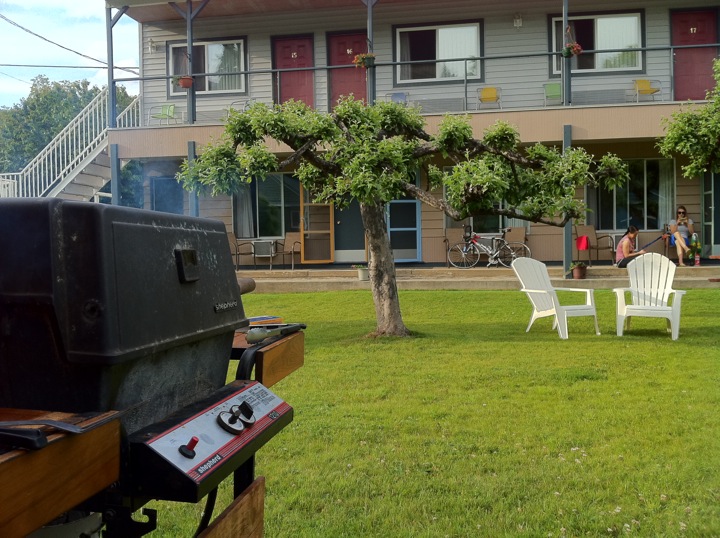 Kaslo Motel, great place to relax after a long day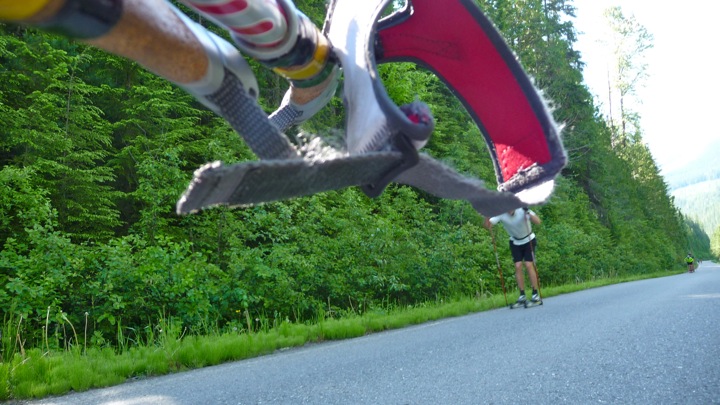 We were right back at it the next day with some double poling up to Bear Lake. Like last years orange blur incident with Coach Eric G, Phil Widmer was clobbered by an extra large pole strap during the workout.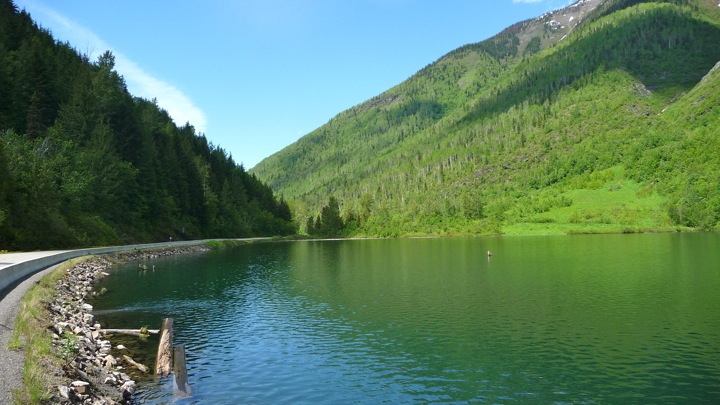 Bear Lake, in suspiciously close proximity to Fish Lake...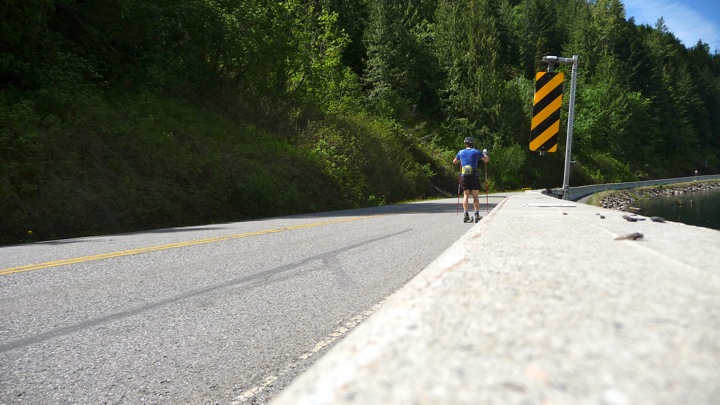 While skiing alone and craving a photo of oneself, the self-timer can be your best friend...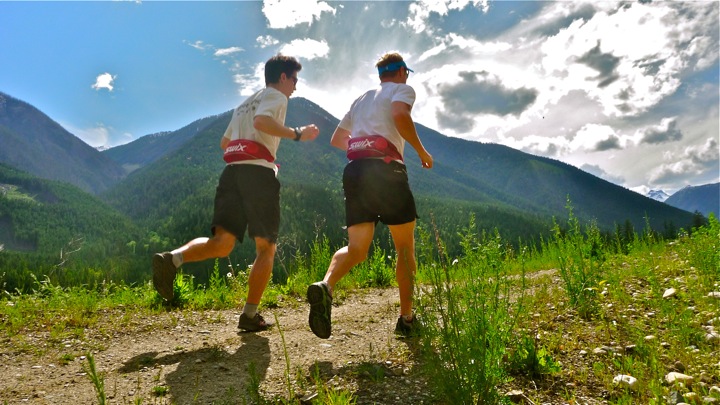 That afternoon we laced up the shoes and ran along the Wagon Road, an old connector trail from Kaslo to New Denver. Nishikawa and Goldsack running up the ridge.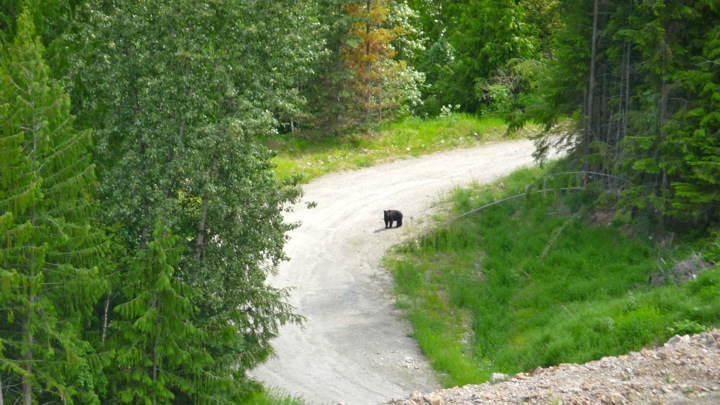 Bear at 10x. Or large dog...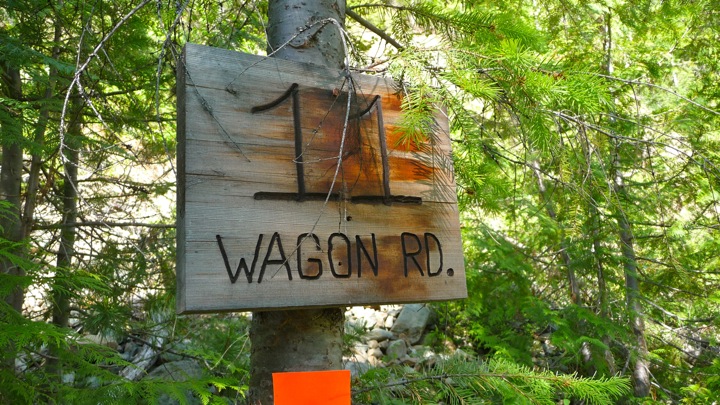 Similar to last years run in New Denver where a group got lost and left behind (albeit only for a couple hours), this years run was no different. Told to keep an eye out for the Gatorade jug as the rendezvous point for the vans, we soon found out there was never a Gatorade jug to begin with. As Ackbar would most definitely agree, it was a trap. At this 11km trail marker, I was ahead of the other groups and wondering if I'd ever see the team again.
With a short park/gym session and a "friendly" game of baseball between teammates, it was back in the cars and on our way home. Next week is the start of some skiing on the Haig Glacier, with an equally short two night camp up there with the rest of the National Team crew.
Until the next momentus updating occasion,
K